In Memory...
This page is dedicated to the friends who have left us.
Kayla
December 1986 - September 1999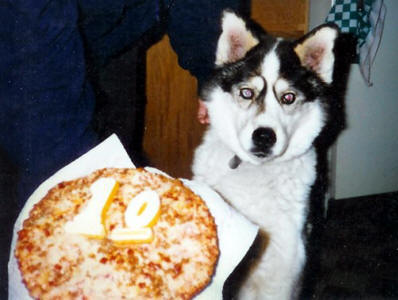 Celebrating Kayla's 10th Birthday with pizza
Kayla was our first Siberian Husky. She was given to me by the Harrons (Lokental Racing Siberians) as a gift during my apprenticeship at their kennel. While she was never registered, she came from racing lines, and helped give me my start in running and racing sled dogs.
We lost Kayla to cancer in September of 1999, at just shy of 13 years old. Everything we have, everything we've done with our dogs could not have happened without her, and we are grateful for the impact she had on our lives.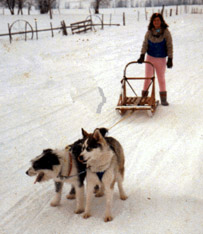 Kayla (right) leading my first team!
Every year on Kayla's birthday, December 1st, we have our Annual "Husky Birthday Party," during which we celebrate the birth of all of the dogs at Kaylenberg; this is typically done with pizza, ice cream, and chew bones
Kayla, as may or may not be obvious, is Kaylenberg's namesake, as well. Kaylenberg is German for "Kayla's Mountain."
After losing Kayla, we commissioned a paving stone for her on Wolf Haven International's "Path of Understanding". This walkway was created to help improve handicapped access to the sanctuary, and is made out of stones donated and dedicated by all of Wolf Haven's fans. We encourage everyone to visit this wonderful wolf sanctuary in Tenino, Washington. If you do, please take note of the Path, and look for Kayla's stone.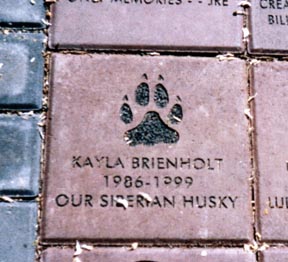 Special thanks to Gail Birdsong for this photo
---
Sepp-Lok's Adriel
"Auddie"
March 1989 - October 2002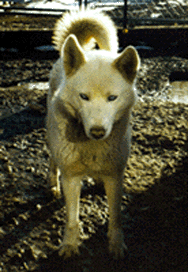 Auddie was the leader who made it all happen. She came to me at 11 months old, already single-leading, and never looked back. She got both myself and her team out of several sticky situations, and led her children to our best racing record ever in 1993-1994. We lost her suddenly in October of 2002.
---
Storm Mountain's Angel
"Angel"
May 1999 - July 2010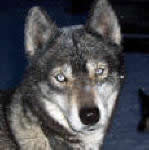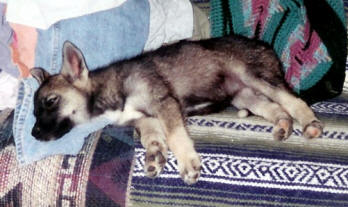 Angel as a puppy
Angel was a hardworking sled dog her entire life. She occasionally led our teams, was an excellent team dog, and gave us her hardworking kids, Baxter, Sage, and Hank. She was kennelmate to Stoney, and kept him in line with daily ear-bites after dinner. She was a very good girl, and we lost her too soon.
---
Kaylenberg's Badger
"Badger"
December 2000 - December 2013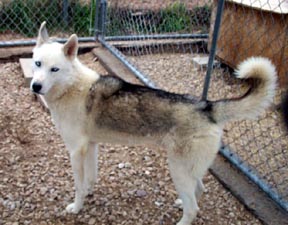 Badger was one of our most solid team dogs, and never let us down. His sire was our boy Loki. His dam, Cheyenne, was a lovely girl with an impressive pedigree full of past Greats of Racing Siberian history. He was bred only once, producing a litter of two with Sage.

Badger was a sweet, easy-going guy, and one of our star ball-fetchers in the dog yard. When let out to run in the yard, he would immediately run to where the balls were kept and stare at us expectantly. Very odd for a Siberian! We lost him quickly to a very aggressive cancer. He was a good, good boy.
---
Ch. Kaylenberg's Watch Your Back
"Blade"
June 1995 - October 2008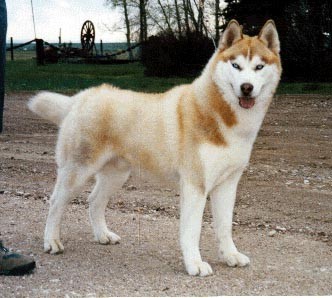 The Siberian husky Breed Standard describes ideal temperament as "friendly and gentle, but also alert and outgoing...his intelligence, tractability, and eager disposition make him an agreeable companion and willing worker."
Blade was the dog our Standard describes. He was happy to be with you, happy to do whatever you were doing -- just happy to BE. Every stranger was a new friend, and no dog was worth fighting with. He was just a very easy, Very Good Boy.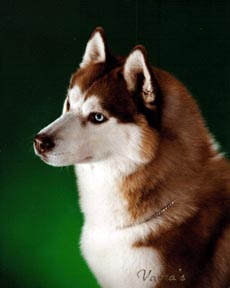 I miss you very, very much, B.D. Run with your Mama.
---
Excalibur's Queen of Hearts
"Cherry"
December 1998 - April 2002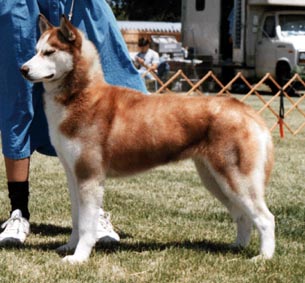 Cherry was one of our first show dogs. Although her time in the ring was short, she went on to produce Fetish, Quest, and our first home-bred AKC champion, Totem. She was known as "Red Death" among our cats, but we will never forget her sweet, easy-going disposition toward dogs and people alike.
---
Am/Can Ch. Bonnfel's Cowboy Spirit
"Cowboy"
December 1995 - April 2012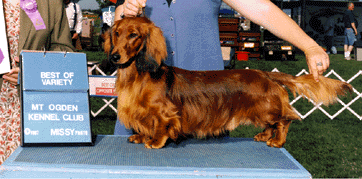 My mother, Michelle, met Cowboy at a sled dog race when he was only a few months old. My father, Tracy, did not want a "little dog", and was sure he was going to step on him one day and kill him. But Mom was in love, and so Cowboy came home with them.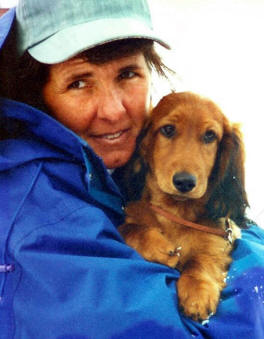 Cowboy as a puppy, with Mom
We'd been showing Siberians for awhile, but now had a new adventure on our hands with a Standard Longhaired Dachshund. Cowboy began his show career at 6 months and 3 days old, and completed his championship at 9 months and 3 days old, nearly undefeated and with a Specialty WD/BOW to his credit. He went on to win numerous Bests of Variety, a few Hound Group placements, and a Specialty BOV. He finished his Canadian championship in just a few shows with at least one group placement. But he was a mama's boy, and didn't enjoy showing with me nearly as much as he loved being with Mom.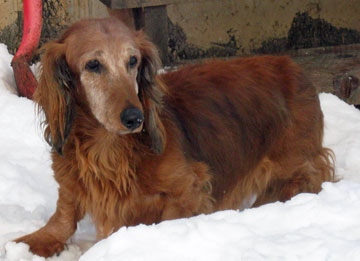 Cowboy in his teens
Cowboy was our dog truck mascot, my mother's best friend, and the reason we now own 4 other Dachshunds between us. His loss was a massive blow to the family, and we will never, ever forget him. Rest well, Buddy. You deserve it.
---
Kaylenberg's Night Song
"Cricket"
April 1998 - January 2013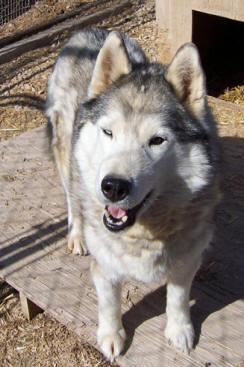 Cricket was a funny girl, a good girl, and her own girl. She was one of the two we kept out of Pal and Misha's litter, but didn't take to showing the way her sister, Sunset did. She retired from the ring needing only a major to finish. Cricket was never bred, but worked on our teams and bossed everyone in the yard around when they needed bossing (which was most of the time).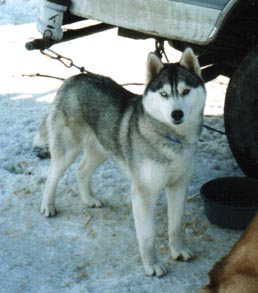 She didn't like to be messed with, didn't want to come in the house - she just wanted to be fed, petted (when she wanted to be petted) and left alone. We will miss you, silly, cantankerous girl!
---
Kaylenberg's Son Dancer
"Dancer"
October 2000 - April 2014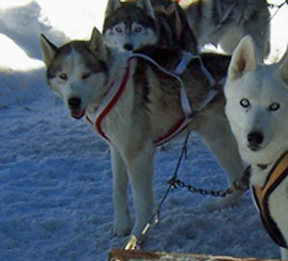 Dancer was named in honor of his father, Sundance; we saw a strong resemblance early on, and this boy lived up to it. He was a solid team dog with a great work ethic and his father's easy going attitude. He lived his entire life intact and kenneled with his cousin Badger (at right in the photo above) in the "Frat Kennel" - much like his dad, he never started a fight and had nothing to prove. He followed Badger over the Bridge within a few months - buddies to the end.
Dancer was 12 years old in this photo, and still ready to run.
---
Kaylenberg's Dawn O'Sepp-Lok
"Dawn"
August 1991 - April 2001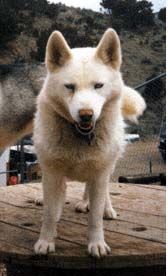 We lost Dawn suddenly in the spring of 2001, to a brain tumor. Beside her sister, Dusk, she was a steady lead dog on our sprint teams for almost all of her life. She taught our puppies. We think of her most when the snow falls.
---
Kaylenberg's Twilite Visitor
"Dusk"
August 1991 - February 2004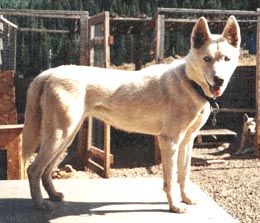 Dusk was the last of our one and only litter out of Adriel, born in August of 1991. She was a reliable leader, along with her sister Dawn, for most of her life. A mysterious and life-threatening fever almost took Dusk from us early in life, but she recovered, and it never affected her desire to be part of the team.
It's hard for me to accept that Adriel and her legacy are now all gone. There will never be another litter like this one.
---
Kaylenberg's Canyon Call
"Echo"
June 1996 - June 2008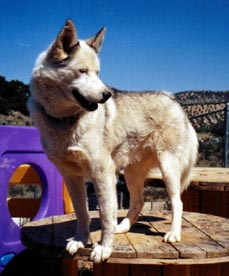 Echo was part of our 1996 "Utah Desert" racing litter, and a full sister to Rocky and Panda. She was a hardworking girl who never complained, never started trouble, and was always willing to give kisses. She was very, very much like her mother, Seven-Up. She lived with Rocky until his passing, and followed him to the Bridge. 
---
Kaylenberg's Rio Grande RN
"Faro"
April 1999 - August 2014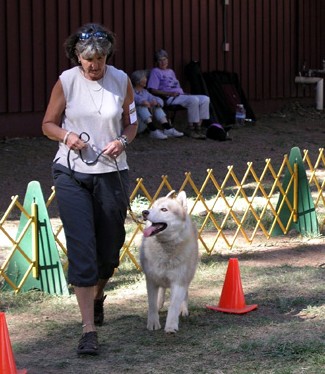 Faro was a big, handsome, easy-going dude. He was our keeper from Fetish's only litter. He started his career in the conformation ring, but never finished his championship. Instead, he and Michelle trained in Rally Obedience when it first debuted with the AKC, and he picked up his Rally Novice title easily. He did some running on our teams, but preferred to be a house dog and kennel monitor. Nobody messed with Uncle Faro!
---
Kaylenberg's Sacred Fetish
"Fetish"
October 1993 - May 2001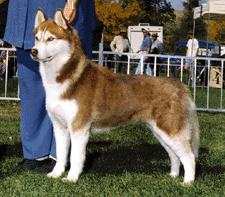 Like her brother, Totem, Fetish left us too early. We will never forget her laid-back charm and gentle personality...always reflected in her son, Faro, until the day he joined her at the bridge.
---
Neversummer's Flurry
"Flurry"
April 2001 - September 2016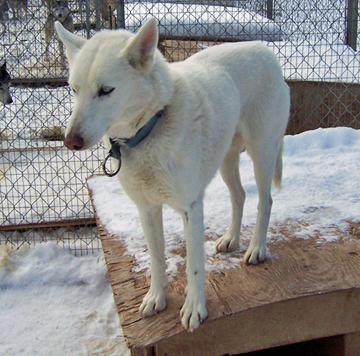 Flurry came to us from CO in 2011, when our good friend Lindsey rescued her from a shelter after she was dumped there by her owner. She was a hidden gem - a trained gee-haw leader who settled into the kennel and was thrilled to have a job again. She never let us down, and always wanted to go even after age got the better of her. We are grateful that we got to be Flurry's "retirement home," and will miss her sweet, eager personality.
---
Spirit Wind's Fritz
"Fritz"
November 1986 - February 2000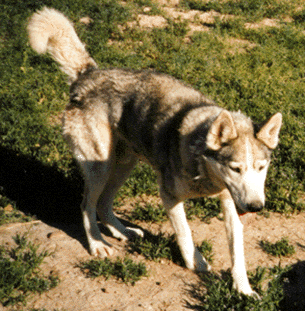 Fritz led a long and auspicious life as a serious sled dog. He was a tireless worker, a steady team dog, and a wonderful producer for his breeder Rick Whitmore. Fritz came to us in 1995, and ran on our mid-distance teams until age 12! He refused to be left home, and was always ready to run.
---
Kachina of the Midnight Sun
"Kachina"
July 1990 - August 2004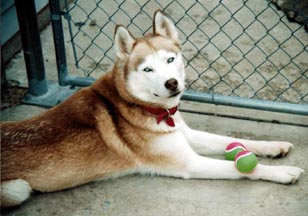 Kachina was my very first "real" show dog. She helped me learn The Ropes. Unfortunately I didn't have the patience (or experience) to understand how long it really took for those "Old Lines" to mature, so she was retired from the ring before her time.
Kachina only got prettier as she aged. She produced our second homebred champion, Nick, and ran on my early mid-distance and sprint teams. After retiring from the trail, Kachina became beloved companion to her grandson, Tristan, and their dog-mom Kathy. She lived as a spoiled house pet to the ripe old age of 14!
Thank you, Kathy, for taking such good care of my girl!
---
Kaylenberg's Kayla's Spirit
"Kayla"
October 2000 - October 2013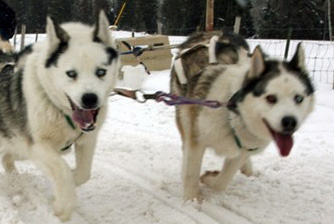 Kayla (R) leading with her sister, Waneek (L)
Kayla was named in honor of our original Kayla because she looked so much like her when she was a puppy. She was a solid team dog her entire life, and led both my father's tour team (with her mother, Panda) and our smaller puppy teams when older. Kayla ultimately lost her vision in both eyes to glaucoma, but remained spunky and sweet up to the last days of her life.
---
Ch. Kaylenberg's Raven Dance
"Leroy"
May 2008 - October 2014
Leroy was born here at Kaylenberg, and lived with owners Greg and Sarah his entire life. We knew there was something special about him, and asked them if we could show him. He finished his championship quickly, with three majors and two specialty reserves. He was a handsome, laid-back fellow, with his dam, Luna's, sweetness and his sire, Kwin's, hard-headedness. He was awesome in harness, and loved to skijor with his owners.
Leroy was diagnosed with epilepsy in 2012. We lost him in 2014.
---
Sepp-Lok's Vanok Loki
"Loki"
September 1991 - November 2003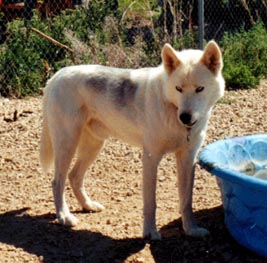 Loki came to us in the fall of 1991, and grew up with his cousins from Adriel's litter. He was a rock-solid worker, and even led my team during the mid-1990s. He had a competitive spirit, and did not like to be passed, which earned him a bit of a bad reputation among the other mushers. Regardless, Loki loved his people and was very easy to live with. We continue to see his influence in his children and grandchildren.
---
Ch. Kayak's Pagan Moon O'Kaylenberg
"Luna"
November 2003 - December 2017
Luna was the best house dog, the best puppy raiser, and had the best temperament I could ask for. She came to us in early 2004 from our good friends Marcy Lew, Sherri Del Pozo, and Nancy Sumida in California. She had a wonderful show career, although she did not take much interest in running on a team (her nickname was "The Silver Anchor"). She produced some incredible puppies who inherited her stellar structure and personality, and we now have her grandchildren and great-grandchildren to carry on her legacy.
I could not have asked for a better companion.
Run free, my sweet, sweet girl.
---
Sepp-Lok's Markle of Kimball
"Markle"
May 1991 - March 2003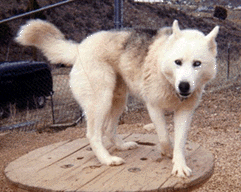 Markle was a solid team dog with an impressive pedigree. He came to my father's team in the mid 1990s, and we could always count on him. Markle lost his sight to hereditary glaucoma in the last years of his life, but never stopped being buddy and one-and-only-true-friend to his kennelmate, Nike.
---
Kczar's Midnight Misha
"Misha"
November 1991 - February 2003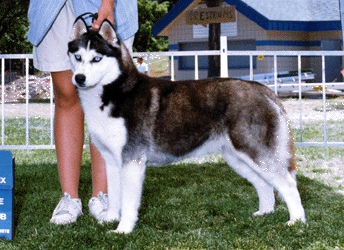 I can't really write about Misha. Just looking at her pictures is hard enough. She was my Soul Dog, my foundation, the Moon to Pal's Sun, and my life is emptier without her. Even after all this time, I miss her constantly.
---
Ch. Kaylenberg's Codename: Lobo
"Nick"
October 1993 - June 2007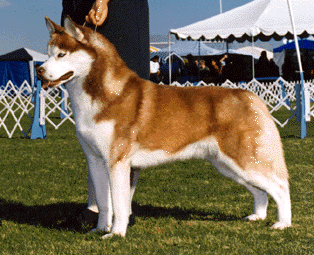 Nick was my Big Red Freight Train. He did everything full throttle, and that included dragging me around the ring as well as working on the team. He was handled to his first major by my good friend, Sherry Law, who was also his biggest fan.
Nick was a littermate to Tarry, and our second homebred champion. There will never be another dog with his incredible attitude!
---
Nike of Sepp-Alta
"Nike"
April 1992 - August 2007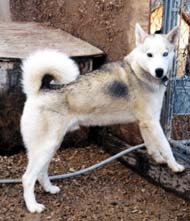 Nike originally came to us at 2 years old as a potential lead dog for my father's team. While the "lead dog" part never really worked out, Nike was an incredible team dog who never, ever quit. Even in his "old coot" days, he was a feisty troublemaker! Good boy, Nike!
---
Am/Can Ch. Tamerlane's Carpe Diem, CD CGC
"Pal"
June 1992 - August 2002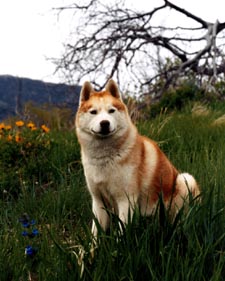 Pal was my hero. I adored him. We all did. He was our first AKC champion, thanks to the trust and friendship of his breeder, Sue Henderson. He was a lead dog, a sire, and a kennel monarch. He finished his Canadian championship in 7 shows, including 2 Bests of Breed, and earned a score of 196.5 on one leg toward his American CD. He had 2 legs toward his Canadian CD, as well.
In spring of 2002, Pal was diagnosed with cancer. After the amputation of his hind leg, we hoped everything would be all right. Pal handled his new "handicap" with his usual grace and aloof dignity, despite the occasional slip on the hardwood floors. In August, Pal began to hurt. After several days of refusing to eat, we let him go.
I don't think I will ever stop hurting.
We love you, Muffy.
---
Kaylenberg's Delicate Arch
"Panda"
June 1996 - May 2010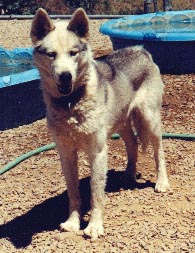 Panda was the last of our 1996 "Desert Themed" racing litter, and a littermate to Rocky and Echo. She was a solid, talented, and tireless lead dog, who led our teams until she was 12 years old! She ran on Dad's racing team, as well as his tour team. Like her littermates, sire, and dam, Panda worked hard, never complained about a thing, got along with most everyone, and was incredibly easy to live with. She was just a great old girl.
---
Ch. Tamerlane's Wings O'Kaylenberg CGC
"Pilot"
July 1995 - January 2006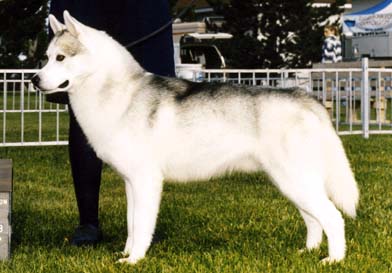 Pilot was born in Pal's first litter, out of Sera (Amahok's Karamad Què Sera). He had his father's look, and his mother's sunny disposition. We co-owned him with our good friend Sue Henderson, Pal's breeder, and he lived with her and his grandfather, Chasin', almost his entire life.
Pilot earned his championship fairly easily, although a leg injury forced him to take some time off before picking up that last major! He also earned his Canine Good Citizenship title with some help from Sue's young neighbor.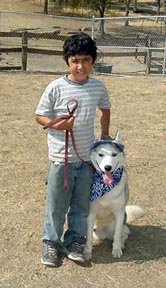 Thank you, Sue, for taking such good care of our boy.
---
Kaylenberg's Vision Quest CGC
"Quest"
October 1993 - January 2002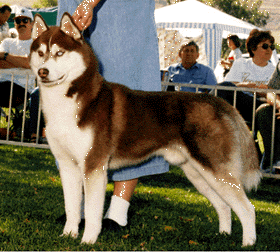 We were deeply saddened by Quest's sudden passing. We are grateful to his owner, Dorraine Edwards, for providing him with such a wonderful home, and a wonderful life. Just a week before his death, Quest and Dorraine joined us for a sled run...Quest's lust for life allowed him to enjoy running, showing, and simply being with his family with equal "gusto". Like his littermates, Totem and Fetish, his lost left a hole in our hearts. 
---
Kczar's Teton Traveler CD, CGC
"Rebel"
October 1990 - July 2001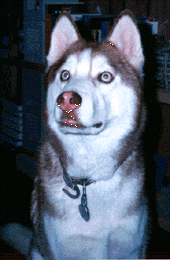 Rebel was my mother, Michelle's, first obedience dog. Meant to be a show dog, we found out early in his life that our plans for his future in the ring were not to be what we thought. Rebel was Mom's hiking buddy, her constant friend, one of the few dogs we could trust off-lead and one of the fewer that went to school with the 7th-Graders on a regular basis. Due to the massive ineptitude of a veterinarian, we lost him too early. Never again.
---
Kaylenberg's Slickrock
"Rocky"
June 1996 - September 2007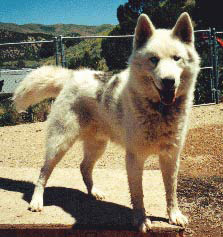 Rocky was the only male in our 1996 "Utah Desert" litter. He was as sweet as his mother, Seven, and as hardworking as both she and his father, Loki. We could not have asked for a better boy! Rocky loved his people, and never argued with the other boys in the yard. He was a wonderful, easy-to-live-with dog.
---
Kczar's Springtime Break-Up CD, CGC
"Salcha"
November 1991 - March 2007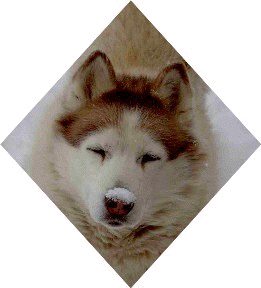 Salcha began her show career as a conformation and part-time Jr. Showmanship dog, but eventually gave these up for an obedience career. She was the Official House Siberian and Driveway Greeter Extraordinaire, and one of only two Siberians we've ever had who could be trusted off-leash.
Even in her late years, Salcha was pretty darn feisty! She never hesitated to crawl into a whelping box while a Momma Dog was outside and snuffle puppies - but when those puppies got old enough to be obnoxious, she put them right in their place!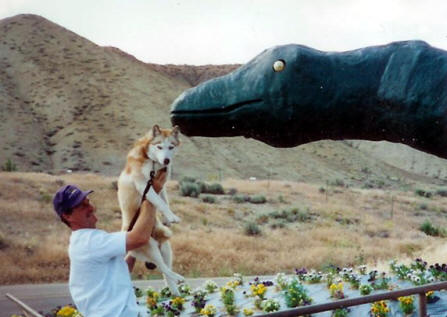 Salcha was sister to Misha and sidekick to Cowboy. We wish that she could have lived forever.
---
Riverview's Seven-Up of Sepp-Alta
"Seven"
September 1989 - June 2004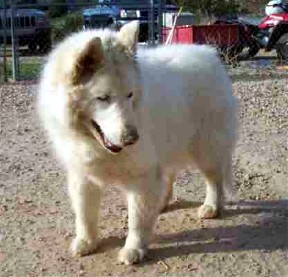 Seven (or "Seven-Up") was my father, Tracy's, first "real" lead dog. She was born in Canada, but came to us through the usual "musher network" when she was a few years old. She made a huge difference in the speed of my father's team, and was the foundation for most of our racing dogs from the mid-90s onward. She was a reliable gee-haw leader for any size team. Among Seven's naughtier habits was her ability to open any kennel gate, and she passed this talent on to her children, and even her grandchildren! She was also one of the few dogs in the kennel who could put with Loki, and they were close kennel-mates.
---
Kaylenberg's Smokey Joe
"Smokey"
September 1989 - June 2004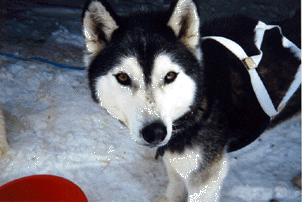 Smokey was our first rescue dog, coming to us when he was 8 months old. His owner could no longer keep him and, since we were trying to build our sled dog teams, he stayed with us. He was the consummate Siberian, friendly to all, loyal to none, a willing worker and a happy teammate. He even ran lead for us!
We lost Smokey only months before his 18th Birthday -- he was one tough dude!
---
Bonnfel's Starwind
"Star"
October 2001 - February 2010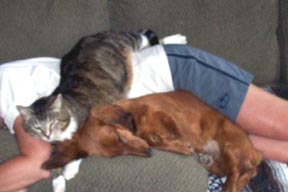 Of all of the Weens, we didn't expect to lose Star first. She was Michelle's second Dachshund, and preferred to be snuggled with rather than be a show dog. She was Michelle's shadow. We lost her suddenly to hemangiosarcoma, and it blind-sided us.
---
IABCA Ch. Tombstone of the Midnight Sun
"Stoney"
May 2002 - May 2016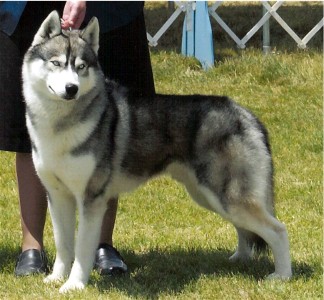 Stoney was very much his own dog. He wasn't fond of showing, and didn't particularly like to be petted or loved on, even by his own people--but he did love to run. He led many of our teams over the years. Stoney was retired from the show ring needing his majors to finish his AKC championship, as he made it plain he thought dog shows were a waste of his time. He was a quiet, stoic soul who enjoyed a peaceful retirement on his own terms.
---
Outlaw's Sundance Kid
"Sundance"
April 1989 - April 2005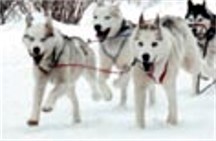 Sundance (R) leading our 12-dog team
Sundance was bred by a friend in Sandy, UT, and came to us when she was forced to take a hiatus from running sled dogs. He was an ultra-dependable leader with a wonderful temperament; although he remained intact his entire life, he never started a single fight with another male.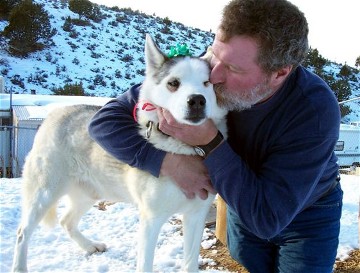 Sundance and Dad starring in our 2003 Christmas Card (note the green bow on Sundance's head!) 
We lost Sundance just a week before his 16th birthday. Luckily, we had a son and two daughters from his one-and-only litter to carry on his legacy.
---
Ch. Kaylenberg's Edge of Night
"Sunset"
April 1998 - March 2013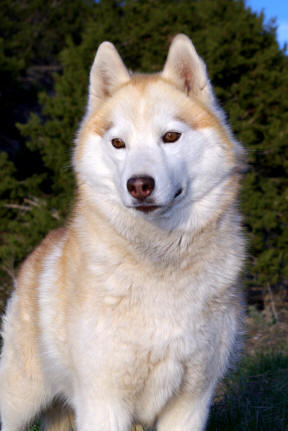 Sunset was the star of the show, taking her first major as first points from the 9-12 puppy class. She was Pal and Misha's more boisterous, pushy daughter, eclipsing her sister Cricket. She led our teams and had a tremendous influence on our breeding program through her daughter, Aura.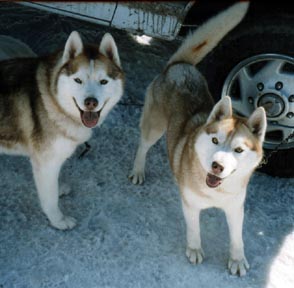 Sunset with her sire, Pal
She followed her sister to the Bridge much faster than we ever thought she would, just one month shy of 15 years old. She was my last Misha kid. I can't believe she's gone.
---
Kaylenberg's Wakana Tala
"Tala"
April 1996 - August 2010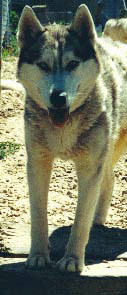 Tala was the lone puppy in her litter. She was born with Ectopic Ureter, and we decided to keep her and have surgery done to correct it. Unfortunately, Tala's surgery wasn't entirely successful (as it often isn't)...but this didn't damage Tala's sunny outlook or otherwise robust health. She did run on our teams, although her obedience career was cut short by her occasional leaking. She was a sweet, easygoing girl who took everything in stride, and lived to the ripe age of 14. We will miss our "Hamster Girl"!
For more information on Ectopic Ureter, please see our article.
---
Voltaire of Kaylenberg
"Tarry"
October 1993 - April 2006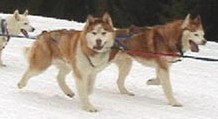 Tarry (L), running with littermate Nick
Tarry was born in our very first "show litter". Although we intended to place him as a pet, he just sort of ended up sticking around. :) Tarry spent most of his life here as a working sled dog, and was always ready for a run. He got along with everyone, and was wonderful to live with. We miss him!
---
Kaylenberg's Frosty Tiger CD, CGC
"Tigger"
December 1988 - August 2002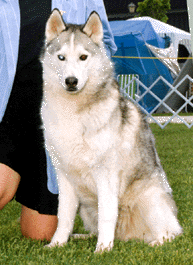 Tigger was my first AKC registered Siberian, and we blame him for getting us hooked on dog shows. We bought him out of the back of a truck at a local sled dog race from some backyard breeders...we didn't know any better at the time. Tigger was game for anything -- I showed him in Jr. Showmanship and even conformation before realizing that perhaps obedience was more his "speed". He was an unpredictable and always entertaining obedience competitor...you were never quite sure how the off-lead exercise was going to turn out. He also had his paw in the early stages of Utah's agility competition scene, although juvenile cataracts later hampered his abilities.
Tigger also ran on my first sled dog "team", with Kayla and Grizzabella (the Siberian/Old English Sheepdog mix).
Tigger is the reason that we have titles on our dogs.
---
Ch. Kaylenberg's Wolfsign CGC
"Totem"
October 1993 - November 1999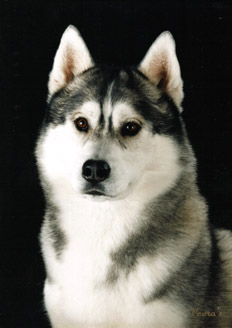 Everyone who had the privelege of knowing Totem came to love him. He was our "Forrest Gump," silly, sweet, big, and goofy. He was also the first dog bred by Kaylenberg to earn his AKC championship, something we were very proud of. In July of 1998, Totem was diagnosed with Lymphosarcoma, an agressive form of cancer. Although he was happy and seemed healthy enough to the observer, we immediately began a treatment regimen combining both traditional chemotherapy and homeopthic/holistic methods in order to preserve his life. Totem was in remission for a very long time, long enough to begin training for the obedience ring...even earning his Canine Good Citizenship title.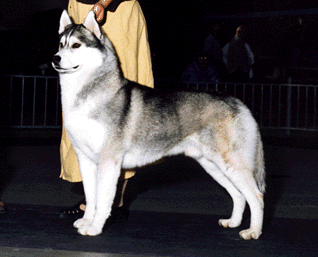 After losing Kayla in September 1999, we were not truly prepared for Totem's passing. It was a difficult autumn for all of us, but we were grateful for the extra time and health our big grey boy had. We are also grateful for his nephew, Faro, who remind us so much of him. We will always miss him.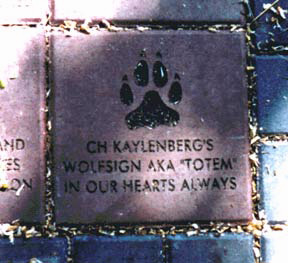 Special thanks to Gail Birdsong for this photo
We comissioned a paving stone for Totem on Wolf Haven International's "Path of Understanding". This walkway was created to help improve handicapped access to the sanctuary, and is made out of stones donated and dedicated by all of Wolf Haven's fans. We encourage everyone to visit this wonderful Wolf sanctuary in Tenino, Washington. If you do, please take note of the Path, and look for Totem's stone.
---
Kaila's Dangerous Liaisons
"Tryst"
September 1996 - October 2011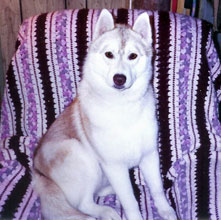 I brought Tryst home in November of 1996 as my new show prospect. Unfortunately, a severe bout of epilepsy at 18 months old cut both our show ring and sled team plans for Tryst short. Fortunately, we were able to overcome the seizure problems (and wean her off the Phenobarb!), and Tryst ended up living a pretty good life. She lived with a family for awhile, but ended up coming back to us at the age of 10 years. She was a silly, noisy, aloof old girl who did things her way to the end.
---
Kaylenberg's Waneek
"Waneek"
October 2000 - July 2011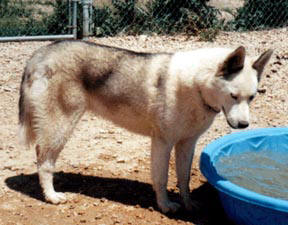 Waneek was one of our litter out of Sundance and Panda. She was a beautiful, hardworking girl, who did her job and rarely - if ever - complained. She kenneled with her sister, Kayla, her entire life. She was a bit bossy - like her mother - but was a sweetheart toward her people.
---
Mookie

September 1985 (?) - June 2001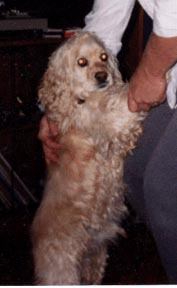 We first found Mookie shivering and frightened in the back of a Humane Society of Utah dog run in December of 1986. He was about 16 months old and, because our neighbor had a Cocker Spaniel who ran with his Arabian horses, we thought he might make a good ranch dog.
He was around to see Kayla come home. He was around to see Tigger's first dog show (and to play in the pool with him!).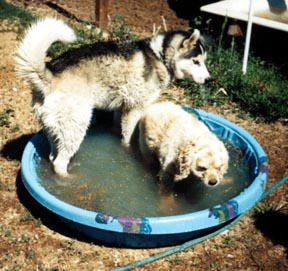 Mookie was around to see the birth of many Siberian litters. He minded his own business, minded the ranch, and tried to nip any stranger who came near him.
We buried Mookie next to my old horse, Jimmie, because he used to love to accompany us on trail rides.
| Top of Page |