Intl. Ch. Tombstone of the Midnight Sun - "Stoney"

Bred by Kandy Tigerman (Tunguska)
---
Stoney (R) leading with daughter Tanya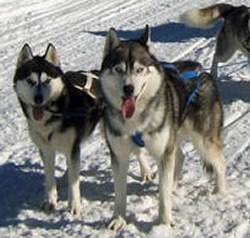 Stoney came to us from Colorado, courtesy of Janis Church (of the Midnight Sun Siberians). His father was a nice blend of working and show lines. He has proven himself on our smaller teams - even leading occasionally - and spent two winters working on our 10-dog tour team. He absolutely loves to run, and just doesn't quit!
Despite having back to back BOB wins from the classes, and needing only his majors to finish, Stoney decided that showing is just not his "thing" and is now retired from the ring. He did, however, earn his International (IABCA) championship in the space of 3 shows.
Offspring...
Out of Kczar's You're So Vain:
Kaylenberg's Jungle Boogie - "Tanya"
Pedigree...
---
					A/C CH. KARNOVANDA'S RIMROCK ICEMAN 
			Nuggetuk's Grimm
					Kus-Cama's Vampira 
				
		CH. NUGGETUK NAME THAT TOMB
				
					CH. KOCHEVOEY'S RAMBLING MAN
			Krista's Amanda of Kochevoey 
					Kus-Cama's Vampira 
							
 Tombstone of the Midnight Sun
 
					Tullemore's Point of View
			CH. TULLEMORE'S COPYRIGHT 
					CH. TULLEMORE'S KEEPSAKE
							
		CH. TUNGUSKA TEN OF THE MIDNIGHT SUN 
				
					BISS CH. KOLYA OF THE MIDNIGHT SUN
			CH. TUMBLEWEED OF THE MIDNIGHT SUN
					CH. GOLD COAST OF THE MIDNIGHT SUN
 
---
| Top of Page |