Kaylenberg's Rio Grande RN - "Faro"

---
Faro - a little scruffy at 13 years old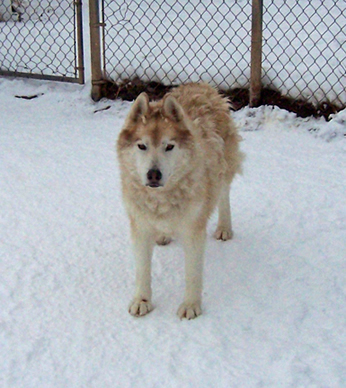 Faro is the "keeper" from our 1999 litter. He did well in puppy-class competition and picked up several single points; however we decided obedience was more his thing, and eventually retired him from conformation competition. He completed his Rally Novice (RN) obedience title easily, and also ran on or 4-dog team during the winter in his younger days.
Faro is now an official "kennel coot", tasked with keeping the younger dogs in line.
Pedigree...
---
					Art'c Dev'l of the Midnight Sun
			CH. KRACKERJAK OF THE MIDNIGHT SUN
					Charmer of the Midnight Sun
				
		A/C CH. HIGH COUNTRY'S TEKO JAK
				
					High Country's Thor
			High Country's Timbermist
					Kita of Taiga
							
 KAYLENBERG'S RIO GRANDE RN
 
					CH. AMAHOK'S ROB 'N' PLUNDER
			CH. AMAHOK'S SNOW WOLF
					CH. AMAHOK'S GENUINE REFLECTION
							
		Kaylenberg's Sacred Fetish
				
					Karnovanda's Excalibur
			Excalibur's Queen of Hearts
					Karnovanda's Black Magic
 
---
| Top of Page |