Kaylenberg's Sage - "Sage"

---
Sage (R) leading Racer Gibson's team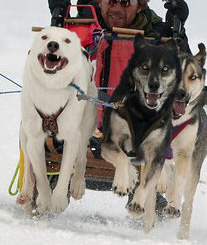 Sage, littermate to Hank, was born here at Kaylenberg in March of 2003. Her sweet, charming temperament makes her quite easy to live with, and she is a power-house in harness.
Sage finished her running career with Maren and Racer Gibson, and is now enjoying a well-deserved retirement.
Pedigree...
---
					Ash of Markovo
			Hercules of Sepp-Alta
					Alma of Sepp-Alta
				
		Bronco of Sepp-Alta
				
					Lester of Sepp-Alta
			Sepp-Lok's Dixie
					Xantippa of Sepp-Alta
							
 Kaylenberg's Sage
 
					Alka-Shan's Luck-Laser
			Sno-Fire's Flag
					Sno-Fire's Sitka
							
		Storm Mountain's Angel
				
					Sno-Fire's Flag
			Spirit Wind's Tzeitel
					Spirit Wind's Shere Khan
 
---
| Top of Page |