Zvezda's Dark Star - "Star"

Bred by/Co-owned with Bruce and Joanne Barnes
---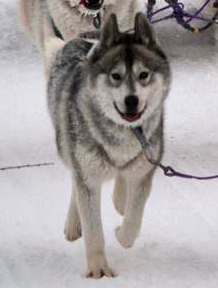 Star leading the team during her first winter in harness
Star came to us from Bruce and Joanne Barnes (Zvezda Siberians) in Texas. She is a beautiful blend of working and show lines. Star had a little time in the ring in the spring of 2018 before Jessica began preparations for her move to Alaska, but missed the rest of the show season. She spent her first winter in Alaska becoming a promising young sled dog -- even running in lead!
---
					NORTHWAPITI'S LINCOLN OF KELIM SD CGC
			Sibersong's Kamots (USA)
					BLIZZARD RUN'S SIBERSONG KADEE SD   
				
		Moonrun's Matrix (Imp. Russia)
				
					Mörkki Av Vargevass
			Moonrun's Atena 
					Giselle
							
 Zvezda's Dark Star
 
					BIS/BISS GCH. NOATAK'S PARTY OF ONE
			GCH. ZVEZDA'S ICARUS SD
					CH. ZVEZDA'S ELEKTRA
							
		CH. ZVEZDA'S KARMA
				
					BIS/BISS GCH. NOATAK'S PARTY OF ONE 
			CH. ZVEZDA'S SOLAR WIND
					CH. ZVEZDA'S ELEKTRA
 
---
| Top of Page |