Ch. Kayenta's Suspicion - "Song"

Bred by Kendra Ireton, Wolf Warren, and Lenore Demmin (Kayenta); and Maryl Foster (Tokima). Co-owned with Lenore Demmin.
---
Song Finishing Her Championship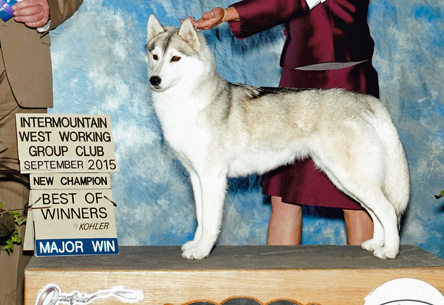 Song joined us here in fall of 2012, courtesy of Lenore Demmin and Kendra Ireton (Kayenta). Over the winter she shaped up to be quite the sled dog, proving herself as a natural-born leader! We call her the "mighty mouse!"
Although Song has been shown only selectively, she has a 5-point major win and a BOB from the classes to her credit. After taking spring of 2015 off, she finished her championship with a 3-point major.
Pedigree...
---
					AM/CAN CH. CHRISDON'S DISTANT THUNDER 
			AM/CAN CH. KRINNKA'S SHADOW OF CHRISDON
					CH. INNISFREE'S SCARLETT O'TASHA 
				
		BIS/BISS GCH. KARNOVANDA'S NORTH BY NORTHWEST
			
					CH. KARNOVANDA'S SEVASTIAN
			CH. KARNOVANDA'S SPELLBOUND 
					CH. WILDESTAR'S WITCHCRAFT
							
CH. KAYENTA'S SUSPICION 
 
					Wildestar's Eagle Dancer
			Wildestar's Spinning Eagle
					Demavand's Kadian Kandy 
							
		CH. KAYENTA'S AERY
				
					BISS CH. KARNOVANDA'S MAN ON THE MOON
			CH. KAYENTA'S ANASAZI KIVA
					CH. KAYENTA'S KOSHARI
---
| Top of Page |