Kaylenberg's Mirror Mirror - "Snø"
---
Snø, September 2012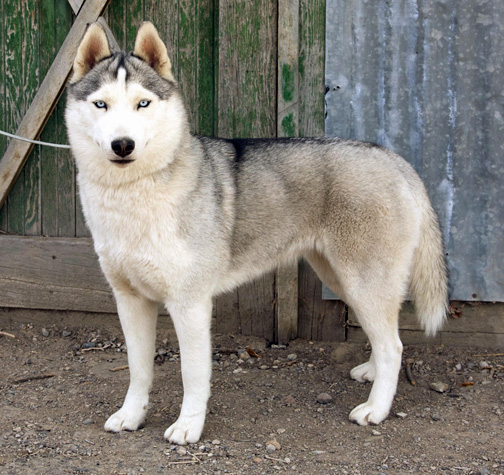 Snø is one of our keepers from our April 2011 Jack x Luna litter. She lives with Maren and Racer Gibson and their pack, including her nephew, Shazam. In limited showing, Snø has 9 points and one major. She has also been leading Maren's team since she was about 10 months old!
Snø's registered name was taken from the Gregory Maguire novel about Snow White, Mirror Mirror.
Pedigree...
---
					AM/CAN CH. CHRISDON'S DISTANT THUNDER 
			BISS AM/CAN CH. HIGHLANDER'S GO FOR BROKE SDX
					CH. KRISTARI'S DAISY MAE  
				
		BISS GCH. BRALIN'S JACK BE NIMBLE SD
			
					Eldorado's Walk On Water
			Bralin's Miss Demeanor 
					CH. BRALIN'S LITTLE MISS DANGEROUS SD
							
 Kaylenberg's Mirror Mirror
 
					BIS CH. NEECHEE SNOWFIRE DARKSHADOWS
			Amahok's Turn Back Time
					CH. AMAHOK'S KINDRED SPIRIT 
							
		CH. KAYAK'S PAGAN MOON O'KAYLENBERG
				
					CH. KARAMAD'S SUMIRO BEARHEART
			CH. SUMIRO'S TROUBLE A'BRUIN O'KAYAK
					CH. KAYAK'S SHARP SHOOTER
---
| Top of Page |