Kaylenberg's Came Back Haunted - "Phantom"
---
Phantom at 8 Months Old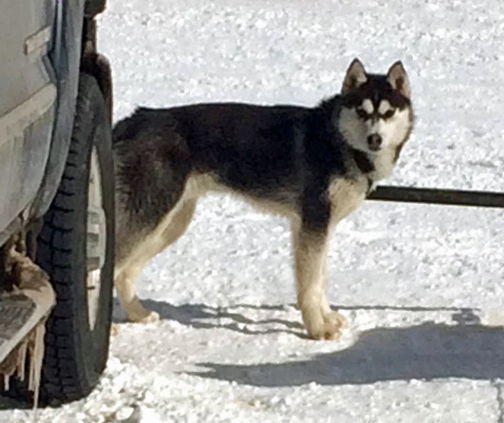 Phantom is the male "keeper" from our 2014 litter. He is a hard-driving, strong boy in harness, and a goofball out of harness.
Because his parents were "Voodoo" and "Grimm," we thought a spooky name was in order. Phantom was named after the Nine Inch Nails song, "Came Back Haunted."
Pedigree...
---
					CH. KARNOVANDA'S MAN ON THE MOON
			CH. KAYENTA'S DARKWIND
					CH. KAYENTA'S KOSHARI   
				
		Kaylenberg's Bad Magic
				
					CH. KARAMAD'S SNEAK'N KOZMOHICAN
			Kaylenberg's Kozmic Vibe 
					CH. KAYLENBERG'S EDGE OF NIGHT
							
 Kaylenberg's Came Back Haunted
 
					Smokey II of Velikaya
			Chlout's Moses of Velikaya
					Buffy of Velikaya 
							
		North Wapiti's Grimmy
				
					Alaskan's Meekur of Anadyr 
			Alaskan's Olena of Anadyr
					Alaskan's Yakut of Anadyr II
 
---
| Top of Page |