Kaylenberg's Can't Take the Sky From Me - "Kestral"
---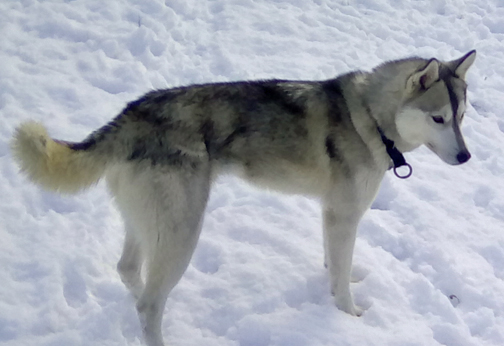 Kestral is the female "keeper" from our 2014 litter. She never stops moving, which makes photos of her very hard to get! She is rocking her first full season in harness, and we can't wait to see how she matures.
Kestral's registered name comes from a line in the theme-song for Joss Whedon's Firefly series.

Pedigree...
---
					CH. KARNOVANDA'S MAN ON THE MOON
			CH. KAYENTA'S DARKWIND
					CH. KAYENTA'S KOSHARI   
				
		Kaylenberg's Bad Magic
				
					CH. KARAMAD'S SNEAK'N KOZMOHICAN
			Kaylenberg's Kozmic Vibe 
					CH. KAYLENBERG'S EDGE OF NIGHT
							
 Kaylenberg's Can't Take the Sky From Me
 
					Smokey II of Velikaya
			Chlout's Moses of Velikaya
					Buffy of Velikaya 
							
		North Wapiti's Grimmy
				
					Alaskan's Meekur of Anadyr 
			Alaskan's Olena of Anadyr
					Alaskan's Yakut of Anadyr II
 
---
| Top of Page |