Kaylenberg's Big Damn Hero - "Hero"
---
Mal: Well, look at this! Appears we got here just in the nick of time. What does that make us?
Zoe: Big damn heroes, sir.
Mal: Ain't we just.

- Firefly, "Safe"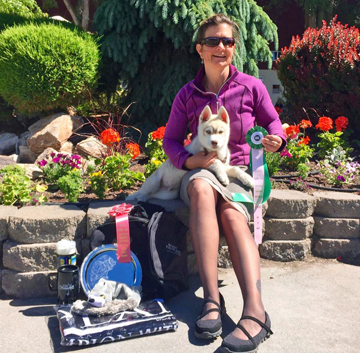 Hero and his Best in Match loot at his first show
Hero comes from our 2016 "Ninja Turtles" litter. He has a big personality, and is pretty sure he's awesome. He made his ring debut at 12 weeks old, winning Best Puppy in Match at the Blackfoot, ID cluster's annual puppy match. He also has 2 Beginner Puppy Competition Working Group I wins. While he hasn't actually competed in a regular dog show yet, we hope to get him out in spring of 2017. Meanwhile, he'll learn how to be a sled dog!
Like his sire, Malcolm, Hero is named for a line from Joss Whedon's Firefly series.
Pedigree...
---
					CH. FOXFIRE'S SILVERADO
			CH. KAYLENBERG'S WATCH YOUR BACK
					Kczar's Midnight Misha   
				
		CH. KAYLENBERG'S AIMIN' TO MISBEHAVE
				
					CH. KARAMAD'S SNEAK'N KOZMOHICAN
			Kaylenberg's Kozmic Vibe 
					CH. KAYLENBERG'S EDGE OF NIGHT
							
 Kaylenberg's Big Damn Hero
 
					BISS AM/CAN CH. HIGHLANDER'S GO FOR BROKE SDX
			BISS GCH. BRALIN'S JACK BE NIMBLE SD
					Bralin's Miss Demeanor 
							
		CH. KAYLENBERG'S STARDUST
				
					Amahok's Turn Back Time 
			CH. KAYAK'S PAGAN MOON O'KAYLENBERG
					CH. SUMIRO'S TROUBLE A'BRUIN O'KAYAK
 
---
| Top of Page |