Ch. Kczar's Matovoya Lisa - "Frosty"
Bred by Kathy Stender - Kczar Siberians
---
Frosty finishing her championship in July 2017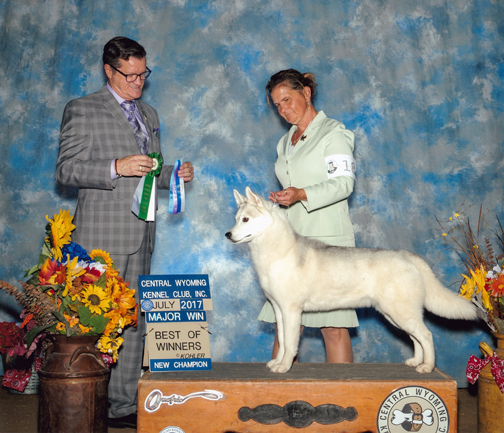 Meet Frosty! Frosty came to us at 4 months old from long-time friend Kathy Stender. Although she's still not entirely sure how to stand still for the judge, she had a very successful show season in 2016, picking up both of her majors. Frosty spends her winters running on our 4 and 6-dog teams, and qualified for the Sled Bitch class during the 2016-2017 racing season. She finished her championship with a 4-point major in July of 2017.
Frosty's registered name means "Frosted Fox" in Russian.
Pedigree...
---
					CH. KOSSOK GOLD BULLION 
			GCH. ZUSKA'S TOBOTUK LODESTAR
					CH. KOSSOK FLAMENCO DANCER  
				
		CH. KCZAR'S WING AND A PRAYER
			
					CH. TOBOTUK'S POWER SURGE
			CH. TOBOTUK'S IRISH ROSE 
					CH. WAYMAR'S ENCHANTED APRIL
							
CH. KCZAR'S MATOVOYA LISA
 
					CH. WILDESTAR'S NORTH FACE
			CH. NOATAK'S PARTY OF ONE
					CH. WILDESTAR'S ANGEL DUST 
							
		CH. AMAZING GRACE OF THE MIDNIGHT SUN
				
					CH. TUNGUSKA ICE FLAME
			CH. WHISPER OF THE MIDNIGHT SUN
					CH. CHOLLA OF THE MIDNIGHT SUN
---
| Top of Page |