Kayenta's Calypso - "Cally"

Bred by Lenore Demmin, Kendra Ireton, Wolf Warren, and Susan Morgan. Co-owned with Lenore Demmin.
---
Cally, Best Beginner Puppy in Show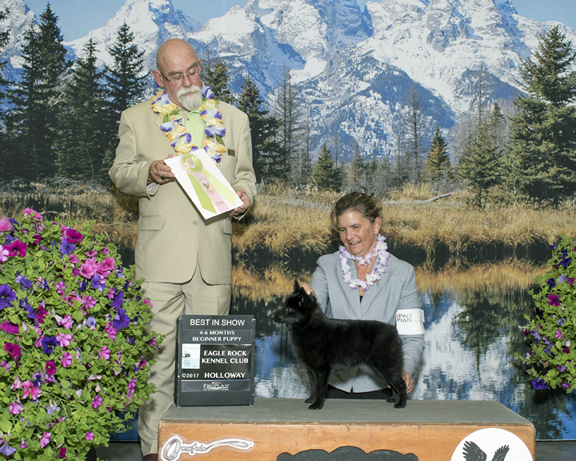 Cally is our newest non-Siberian resident. She came to us in March 2017...it's a long story, but basically Jessica fell in love with her mother (owned by Siberian-breeder-friends Lenore and Kendra) and jumped at the chance to take a puppy!
Cally is a Schipperke, which is Flemish for "tiny, dark, and generally naughty." She made her ring debut in June of 2017 at the Eagle Rock KC 4-6 month Beginner Puppy competition, where she was Best Beginner Puppy in Show! The next day, she wouldn't stop barking at the French Bulldog puppy behind her in the group and that was the end of her undefeated streak.
When she isn't in the show ring, Cally enjoys taunting the Siberians through the fence, chasing grasshoppers (and parading their tiny corpses through the house), and tormenting the Dachshunds.
Pedigree...
---
					CH. BOLTEROY A STORY TO TELL BARBIL
			CH. DHS LEGENDS SOAR IN THE WIND
					CH. BLUE MAX'S WIND B'NEATH MY WINGS
								
		CH. DARADAN'S DESPERADO DEL SUR
				
					CH. DELAMER NAUTI BY NATURE
			CH. FULLMOON NAUTI AT NITE DARADAN
					CH. DELAMER FULLMOON I'VE GOT A SECRET
								
 Kayenta's Calypso
 
					CH. RIVENDEL'S MOST WANTED
			GCH. RIVENDEL'S BAREFOOT BANDIT
					CH. RIVENDEL'S ALL DOLLED UP
								
		CH. KAYENTA'S SEAS THE DAY
				
					CH. DELAMER'S JUST WAIT AND SEA
			CH. DELAMER'S ENDLESS SUMMER
					CH. DELAMER'S TO SEA AND BE SEEN
---
| Top of Page |