Kaylenberg's Bad Magic - "Voodoo"

---
Voodoo at NorCal 2013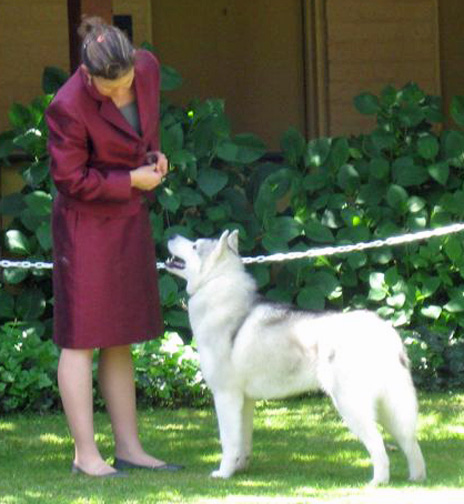 Voodoo is the keeper from our April 2011 Kwin x Aura litter. He is a very sound guy, with dam's enthusiasm and his sire's hard-headedness! Voodoo is a dynamo in harness, and has done well in limited showing. In April 2012 he was BOS in Sweeps at the Rocky Mountain Siberian Husky Club Specialty under judge Mary Uhlir. In October 2012, he went first in 15-18 months Sweepstakes at the Siberian Husky Club of America National Specialty. Thank you judge Virginia Hartronft!
Voodoo was retired from the show ring with 10 points and a major. He will now work on being a full-time sled dog.
Offspring...
Out of NorthWapiti's Grimmy
Pedigree...
---
					CH. KARNOVANDA THE FUTURE KING
			CH. KARNOVANDA'S MAN ON THE MOON
					Karnovanda's Moon Music   
				
		CH. KAYENTA'S DARKWIND
				
					CH. KARNOVANDA'S SUROVIY
			CH. KAYENTA'S KOSHARI 
					CH. KAYENTA'S NAVAJO GHOST
							
 Kaylenberg's Bad Magic
 
					CH. KARAMAD'S REDD RYDER
			CH. KARAMAD'S SNEAK'N KOZMOHICAN
					CH. KARAMAD'S LADY IN BLEU 
							
		Kaylenberg's Kozmic Vibe
				
					AM/CAN CH. TAMERLANE'S CARPE DIEM CD, CGC 
			CH. KAYLENBERG'S EDGE OF NIGHT
					Kczar's Midnight Misha
 
---
| Top of Page |