Ch. Kaylenberg's Stardust - "Twinkle"
---
Twinkle Finishing Her Championship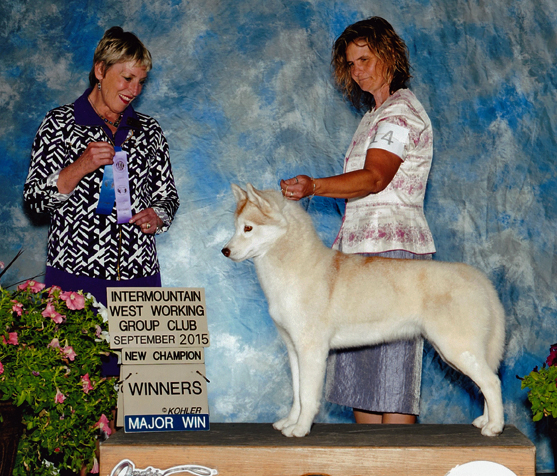 Twinkle is one of the keepers from our April 2011 Jack x Luna litter. She is one of the sweetest dogs we have: easy-going, willing to do whatever you're willing to do (just like her mama!). She spent her first winter in harness having a great time on our 4-dog team, and is now working on our 6-dog team.
Twinkle started off 2013 with a bang, taking a 4-point major at the TriValley Working Club of Pinion Hills show in January. She picked up a couple of singles in the spring before severely damaging the pads on her front paw in a freak kennel accident in May.
Twinkle was shown only one more time in 2013 - at the SHCA National Specialty - where she made the final cut in a BBE class of over 40 bitches. She returned to all-breed competition in May 2014, where she picked up 7 points in the space of 5 shows. She finished in the fall of 2015, after a long year of hunting majors!
Twinkle was named for the novel Stardust, a faerie tale by Neil Gaiman.
Pedigree...
---
					AM/CAN CH. CHRISDON'S DISTANT THUNDER 
			BISS AM/CAN CH. HIGHLANDER'S GO FOR BROKE SDX
					CH. KRISTARI'S DAISY MAE  
				
		BISS GCH. BRALIN'S JACK BE NIMBLE SD
			
					Eldorado's Walk On Water
			Bralin's Miss Demeanor 
					CH. BRALIN'S LITTLE MISS DANGEROUS SD
							
 CH. KAYLENBERG'S STARDUST
 
					BIS CH. NEECHEE SNOWFIRE DARKSHADOWS
			Amahok's Turn Back Time
					CH. AMAHOK'S KINDRED SPIRIT 
							
		CH. KAYAK'S PAGAN MOON O'KAYLENBERG
				
					CH. KARAMAD'S SUMIRO BEARHEART
			CH. SUMIRO'S TROUBLE A'BRUIN O'KAYAK
					CH. KAYAK'S SHARP SHOOTER
---
| Top of Page |