Kaylenberg's Jungle Boogie - "Tanya"
---
Tanya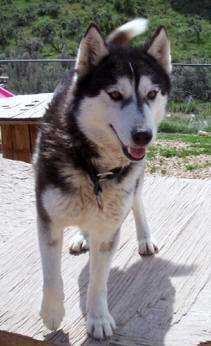 Tanya is another one of our "show line" running kids. She has her sire Stoney's drive and her dam Carly's sweetness. While she never made it into the show ring, Tanya became one of our most reliable leaders, and loved working on the team!
She is now retired, and living a life of leisure with kennel-mate and fellow retiree, Hank.
Pedigree...
---
				Nuggetuk's Grimm 
			CH. NUGGETUK'S NAME THAT TOMB
				Krista's Amanda of Kochevoey 
 		
		Tombstone of the Midnight Sun
 
				CH. TULLEMORE'S COPYRIGHT
			CH. TUNGUSKA TEN OF THE MIDNIGHT SUN
				CH. TUMBLEWEED OF THE MIDNIGHT SUN
							
 Kaylenberg's Jungle Boogie 
 
				CH. TOSIA OF THE MIDNIGHT SUN
			Wildcard of the Midnight Sun
				CH. RHYTHM OF THE MIDNIGHT SUN
 
		Kczar's You're So Vain
 
				CH. AADAK'S HERES LOOKINATCHA KID
			Kczar's Kristi Tannovna
				CH. KCZAR'S KARETSA TANNA
 
---
| Top of Page |