GCh. Kaylenberg's Bring on the Night - "Shazam"

Co-owned with Maren Gibson
---
Shazam BOB in May 2012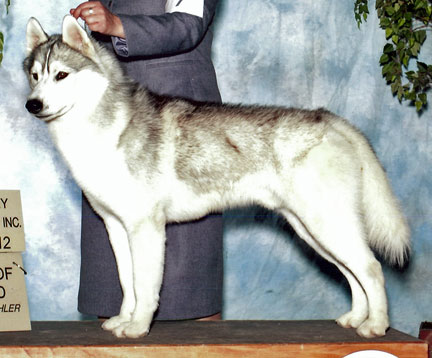 Shazam is the "keeper" from our November 2009 litter out of Leroy and Aura. He has grown into a happy, sound, handsome guy. In September 2010, at 10 months old, Zam took back-to-back WD wins at our local shows, and picked up his first major with BOW! Good boy, Zam!
In 2011, Zam picked up his second major under judge Clay Coady, and finished his championship in style with a 5-point major under judge Pat Hastings at less than 2 years old. He finished his Grand Championship with limited specialing.
Zam lives with Maren and Racer Gibson, where he works on their recreational and tour teams.
Offspring...
Out of GCh. Rybrook's Darya:
Kaylenberg's Night Run to Tribute - Hood
Pedigree...
---
					CH. KARNOVANDA'S MAN ON THE MOON 
			CH. KAYENTA'S DARKWIND
					CH. KAYENTA'S KOSHARI   
				
		CH. KAYLENBERG'S RAVEN DANCE
				
					Amahok's Turn Back Time
			CH. KAYAK'S PAGAN MOON O'KAYLENBERG 
					CH. SUMIRO'S TROUBLE A'BRUIN O'KAYAK 
							
GRAND CH. KAYLENBERG'S BRING ON THE NIGHT
 
					CH. KARAMAD'S REDD RYDER
			CH. KARAMAD'S SNEAK'N KOZMOHICAN
					CH. KARAMAD'S LADY IN BLEU 
							
		Kaylenberg's Kozmic Vibe
				
					AM/CAN CH. TAMERLANE'S CARPE DIEM CD, CGC 
			CH. KAYLENBERG'S EDGE OF NIGHT
					Kczar's Midnight Misha
 
---
| Top of Page |