Kaylenberg's Ruffian - "Ruffian"

---
Ruffian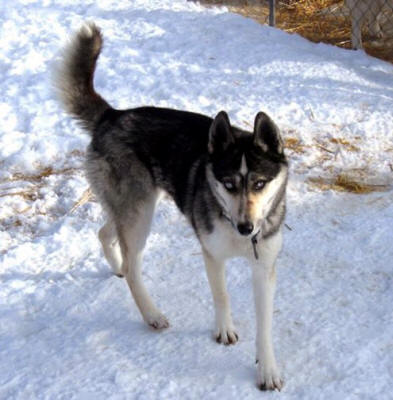 Ruffian is one of two puppies from our last racing-line litter, born in May 2008. Ruffie is completely blind due to glaucoma, but she has not let that slow her down. She adapted to the handicap quickly, and has become a wonderful team dog despite her inability to see.
Ruffian gets along with everyone. She chases the other dogs around the yard with no problems, and can even fetch the ball!
Pedigree...
---
				Sepp-Lok's Ariok of Kimball 
			Sepp-Lok's Vanok Loki
				Vanessa of Alta
 		
		Kaylenberg's Badger
 
				Riverview's Animal
			Sepp-Aluk's Cheyenne
				Sepp-Lok's Flurry
							
 Kaylenberg's Ruffian
 
				Hurcules of Sepp-Alta
			Bronco of Sepp-Alta
				Sepp-Lok's Dixie
 
		Kaylenberg's Sage
 
				Sno-Fire's Flag
			Storm Mountain's Angel
				Spirit Wind's Tzeitel
 
---
| Top of Page |