Ch. Kaylenberg's Aimin' To Misbehave - "Malcolm"
---
"So no more runnin'...I aim to misbehave." - Captain Malcolm Reynolds, "Serenity"
This is the line that gave Malcolm his name, and it's one of his life philosophies. If he can't run...he's going to misbehave.
Mal, King of the Self-Stack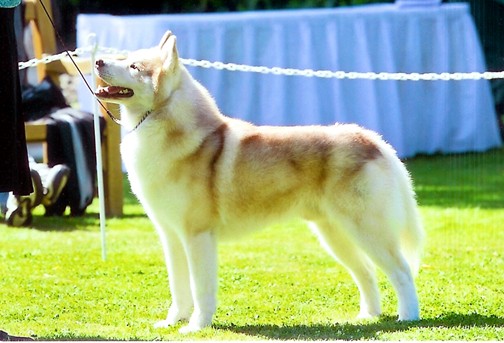 Malcolm is the result of our 2006 breeding of Blade to Aura. We couldn't be happier with the results! Mal combines his father's charm with his mother's athleticism, and has all of the soundness that we'd expected. He has turned out to be an awesome sled dog -- he is also the reason I bought a bike and a springer attachment to exercise dogs at the show grounds.
Mal was named for Malcolm Reynolds, captain of the Serenity in Joss Whedon's "Firefly" series.
Pedigree...
---
					Kadyak's Beowulf O'Ravenwood
			CH. FOXFIRE'S SILVERADO CD
					Foxfire's Cat Ballou O'Nelmaren
				
		CH. KAYLENBERG'S WATCH YOUR BACK
				
					CH. AADAK'S HERES LOOKINATCHA KID
			Kczar's Midnight Misha 
					Yendorbe's Summer Gloworm 
							
 CH. KAYLENBERG'S AIMIN' TO MISBEHAVE
 
					CH. KARAMAD'S REDD RYDER
			CH. KARAMAD'S SNEAK'N KOZMOHICAN 
					CH. KARAMAD'S LADY IN BLEU
							
		Kaylenberg's Kozmic Vibe 
				
					AM/CAN CH. TAMERLANE'S CARPE DIEM CD, CGC
			CH. KAYLENBERG'S EDGE OF NIGHT
					Kczar's Midnight Misha
 
---
| Top of Page |