Ch. Kayenta's Darkwind - "Kwin"

Bred by Kendra Ireton & Lenore Demmin (Kayenta) and co-owned with Lenore Demmin.
---
Kwin on the move at the 2010 National - one month shy of 9 years old!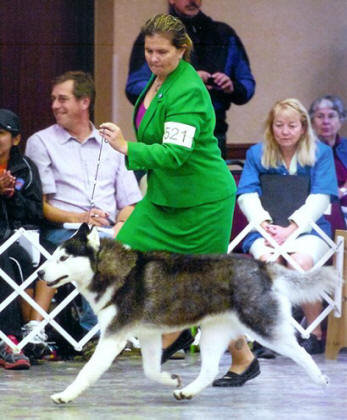 Kwin is our kennel patriarch. During his first show season, he placed second in 9-12 mos. Puppy Sweeps at the National, and first in the regular classes. Kwin took his first point in the form of Best of Breed from the 9-12 mos. puppy class, and went on to a Working Group 2 under breeder-judge Merc Cresap! 
Kwin picked up his majors in the space of 3 shows and finished his championship in May 2005 with a Best of Breed. He was the second of four in his litter to finish!
Kwin has been a mainstay on our teams throughout his life, and has passed his drive and his "vivacious" personality on to his kids. Thank you Lenore and Kendra for entrusting him to us.
Offspring...
Out of Ch. Kayak's Pagan Moon O'Kaylenberg:
Out of Ch. Syntari's Imagine That:
Ch. Karamad's Winds of Change - "Kadja"
Pedigree...
---
					CH. KARNOVANDA'S SEVASTIAN 
			CH. KARNOVANDA THE FUTURE KING
					CH. KARNOVANDA'S MISHA BEAR 
				
		CH. KARNOVANDA'S MAN ON THE MOON
				
					CH. KARNOVANDA'S HAJI
			Karnovanda's Moon Music 
					Karnovanda's Inca Dove 
							
 CH. KAYENTA'S DARKWIND
 
					CH. KARNOVANDA'S IL BACCIO
			CH. KARNOVANDA'S SUROVIY 
					CH. KARNOVANDA'S SYLVIA
							
		CH. KAYENTA'S KOSHARI 
				
					BIS/BISS CH. KARNOVANDA'S GREY SPIRIT
			CH. KAYENTA'S NAVAJO GHOST
					CH. KARNOVANDA'S KENDRAS KITA CDX
---
| Top of Page |