Intl. Ch. Bonnfel's Irish Spirit - "Guinness"

Bred by Kathryn Ryan (Bonnfel)
---
Guinness winning BOV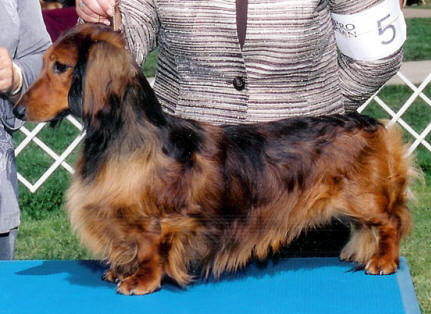 Guinness is our fourth Standard Longhaired Dachshund...when we found out that Cowboy's sire, Spirit had sired a "frozen" litter, we couldn't resist! Jessica had been thinking of finally getting her own male to show, so she flew to Nebraska and brought Guinness home in March of 2007.
Guinness had a short but eventful show career (including an IABCA International Championship), and is now retired from the ring. He is neutered, and doing his best to be a good Ranch Ween.
Pedigree...
---
					CH. BOONDOX PANAMA JACK
			CH. BERGMAR'S SHONEY OF BOONDOX L ROMO
					CH. ROSE FARMS ORCHID V. BOONDOX
								
		DUAL/CAN/INT. CH. D AND D SIERRA SPIRIT V. SHONEY CD JE CGC ROMX
				
					CH. ROYALDACHS CHRISTMAS CHERUB
			CH. RINAC'S MYSTIC WONDEROUS STAR CD GC
					Solong Shalee v. Bristleknoll
								
 INTL. CH. BONNFEL'S IRISH SPIRIT
 
					CH. BARTLES VON LINKS
			CH. BARKERVILLE'S ZEUS
					CH. TIMBAR QUEEN OF THE NILE
								
		CH. BONNFEL'S ELECTRIC SPARKLER
				
					CH. DUAL/CAN/INT. CH. D AND D SIERRA SPIRIT V. SHONEY CD JE CGC ROMX
			CH. BONNFEL'S SPIRIT HALO
					CH. BEVART COPPER PENNY V. BLUEBONNET
---
| Top of Page |