Grand Ch. Kaylenberg's Wicked - "Elphie"

---
Elphie moving out at NorCal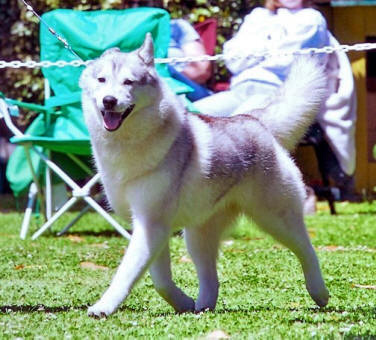 Elphie has the stellar structure and movement that we expected from both of her parents (Kwin and Luna), and her mother's sweet disposition. She is named after Elphaba, the Wicked Witch of the West in Gregory Maguire's novel, Wicked.
Elphie began her show career in Spring of 2009, going RWB at the Northern California Siberian Husky Club specialty. She finished easily at just over 2 years old, a multiple BOB winner from the classes. She went on to complete her Grand Championship with 6 major wins.
Elphie whelped a wonderful litter of 2 for us in September of 2012, during which she unfortunately had to be spayed. She now lives as a full-time Princess with Rachel and Robert in Laramie, WY, along with her nephew Uinta and cousin Bridger.
Pedigree...
---
					CH. KARNOVANDA THE FUTURE KING 
			CH. KARNOVANDA'S MAN ON THE MOON
					Karnovanda's Moon Music  
				
		CH. KAYENTA'S DARKWIND
				
					CH. KARNOVANDA'S SUROVIY
			CH. KAYENTA'S KOSHARI 
					CH. KAYENTA'S NAVAJO GHOST 
							
 GRAND CH. KAYLENBERG'S WICKED
 
					BIS CH. NEECHEE SNOWFIRE DARKSHADOWS
			Amahok's Turn Back Time
					CH. AMAHOK'S KINDRED SPIRIT 
							
		CH. KAYAK'S PAGAN MOON O'KAYLENBERG
				
					CH. KARAMAD'S SUMIRO BEARHEART
			CH. SUMIRO'S TROUBLE A'BRUIN O'KAYAK
					CH. KAYAK'S SHARP SHOOTER
 
---
| Top of Page |