Ch. Bonnfel's Trouble on the Wind - "Danke"

Bred by Kathryn Ryan (Bonnfel)
---
Danke at 8 years old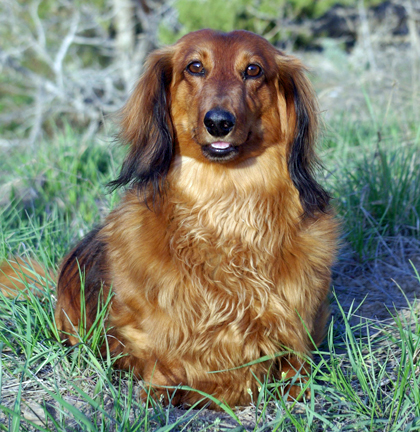 Danke is Jessica's first Dachshund...after living with and handling Cowboy, she decided she needed one of her own. Danke is a half-sister to Star, and Cowboy's niece.
Danke finished her championship in April of 2005, and is now spayed and retired, allowing her to pursue her many hobbies, such as barking, hogging bed space, and refusing to come when Jessica calls her.
Showing in the Veteran Bitch class at the 2010 Columbine Dachshund Club Specialty
Pedigree...
---
					CH. BERGMAR'S SHONEY OF BOONDOX L ROMO
			DUAL/CAN/INT. CH. D AND D SIERRA SPIRIT V. SHONEY CD JE CGC ROMX
					CH. RINAC'S MYSTIC WONDEROUS STAR CD, GC
								
		AM/CAN CH. BONNFEL'S SPIRIT WIND
				
					Firecastle's Apache Warrior
			AM/CAN CH. BONNFEL'S WINDSONG
					CH. BONNFEL'S PICK UP THE WIND
								
 CH. BONNFEL'S TROUBLE ON THE WIND
 
					Pinewood's King Arfer
			CH. CHEVYDOX SIR DEOGIE SL
					Chevy Dox Just Fer Love SL
								
		CH. PINEWOOD'S NAUGHTY BUT NICE JE
				
					CH. BERGMAR'S SHONEY OF BOONDOX L ROMO
			AM/CAN CH. BONNFEL'S WHISPERS ON THE WIND
					AM/CAN CH. BONNFEL'S WINDSONG
---
| Top of Page |